Follow My New Twitter Account HERE @DominaPramilaG, My previous a/c got suspended.
For Full Length Femdom Fetish Videos and Full Uncensored Pictures Without Stickers, Subscribe to My private VK account below
30 days Rs 3000 CLICK HERE TO SUBSCRIBE
60 Days Rs 5000 CLICK HERE TO SUBSCRIBE *Receiver email id [email protected] , DELIVERY mode EMAIL only (dont use Share via link, not accepted), Delivery Date NOW
You can also pay using this LINK *Delivery Mode EMAIL only, DELIVERY NOW rest details you can check above & put carefully
Worship Goddess Pramila Forever!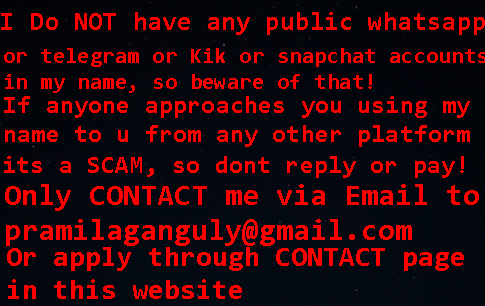 Indian Femdom BDSM Mistress Pramila Ganguly here. Contact Indian Mistress Pramila only through the Contact form available in this website. Beware of fake facebook/twitter pages and fake email ids. My official email id is [email protected] only. My previous official email id [email protected] has got limited access and therefore i have shifted to this new yahoo email id. Similarly, Indian Mistress Pramila doesn't have any open/publicly visible KIK id, my Kik id is private and available to only those who have paid to get the id. So Do NOT send any money to any Kik or whatsapp ids even if they ask and claim to be Indian Mistress Pramila. Do not trust any other email ids watermarked in any of my pictures by scammers. Hope to see you around.

Please Note, Indian Mistress Pramila Does NOT offer or engage in any illegal or sexual or violent or non-consensual activities in my counselling sessions. I provide only Female domination and Female power related counselling sessions. If you are looking for anything promiscuous this is NOT the right place. Years of experience in Femdom as well as continued research in consensual BDSM helps me in providing training to individuals who are interested. All my counselling & training sessions are aimed at stimulating the other person mentally and to impart knowledge about feminine powers.

Please check the Rules to Remember section below this, before contacting Indian Mistress Pramila.
Rules To Remember
1. No real meets/appointment without a cam or phone or text chat session first. Booking application would be acceptable only when its booked through this website's contact form or through my email id [email protected]. One must take a virtual session first in same calendar year & thereafter apply for a real session in the same calendar year itself.

2. No personal verification provided. Please head to the VIDEOS section on this website, to see me (Indian Dominatrix Pramila Ganguly) verifying on video with cam. I will be holding a paper with the website url written and my email id. That is the only verification provided for free.

​3. No 50-50 payment or installment provided here. Full payment or you leave.

4. Booking time is usually 12 pm to 2.30 pm and 6.30 pm till 11.40 pm everyday. If any changes on any particular date, it will be updated on my UPDATES section of website. Please check. Beyond the booking hours, late night sessions are available with additional fee.

​5. Validity of any payment for cam/phone/chat session is 7 days or in the same month (if booked towards end of the month then 7 days would not be given and validity will end as the month ends) including the date of payment, that too with proper intimation in writing to me. Beyond this time-frame session gets cancelled, with no refund possible. And without intimation if one chooses to stay silent, then NO session would be provided. I dont entertain people who cant communicate properly and in a timely manner. This point is applicable, when after paying, the session has not yet started.

​6. Splitting of phone/text sessions wont be ever possible. 30 minutes cam sessions are also not to be split. However, 1 hour cam sessions can be split, provided you intimate me in writing before the session begins.

​7. You are requested to behave properly and should be respectful. Any disrespectful comments, lewd remarks, crude sarcasm might end the session half way, or even before starting, with no refund whatsoever made. You are also advised to be in healthy state of mind when you request for a training session, which means you should not be in intoxicated state while approaching me.

​8. All online sessions must be paid through online mode of payment as would be communicated by me to you. You must provide Payment proof in the form of screenshots or print-outs (as applicable) for each transaction to initiate the session.

9. Tributes and gifts are always unconditional. I dont provide any sessions against that. No refunds are whatsoever made for this form of offering to ME.

​10. I bear no responsibility if you are NOT contacting me through my website or my official email id (mentioned on point no #1) to book a session. Therefore, only contact me through this website or my email id to get 101% assured sessions.

11. No Refund for session booking would be made unless i am unable to give the online session within 24 hours after i receive payment, and i have not notified that to you in writing and you have not given consent to it. This is not applicable for the person booking a session, in which case refunds are not applicable, please refer Point no. #5 above for details.

For tributes/gifts, there are no refunds made anytime.

When you contact Indian Mistress Pramila Ganguly, make sure you agree to all the above mentioned points.
I have strict Policies against people who waste my time after taking payment details and do not pay within the next 5 minutes to maximum 10 minutes. The consequences would be like being in 24 hours – 72 hours block from my email inbox, as well as monetary compensation in the form of FINE of INR Rs 400/- or USD $ 10 minimum added on to session charges next time. And also timewasting might lead to permanent ban from my email inbox. If you try to avoid the fine by chaning your email id and contacting me, and i find it out during the course of a session, your session will be cancelled and ended then and there, with no refund made whatsoever! I hate liars and timewasters and cheat!
The pages of this website are designed for ADULTS only and may include pictures and materials that some viewers may find offensive. This site has got some modelling pictures, and videos however all has been censored for public view. If you are under the age of 18, if such material offends you or if it is illegal to view such material in your community please exit the site. The following terms and conditions apply to this site. Use of the site will constitute your agreement to the following terms and conditions:

1.) I am 18 years of age or older
2.) I accept all responsibility for my own actions; and
3.) I agree that I am legally bound to these Terms and Conditions here.